3A-BIOGAS Technology
The 3A-biogas technology was developed to treat a high capacity of organic waste, beginning at an amount of 10.000t per year, and consists of the following components:
- fermenter buildings
- percolate tank
- control container
- connecting pipes between components
- external peripheral equipment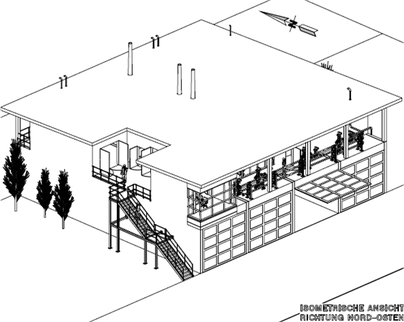 Fermenter buildings
The fermenters are constructed with three concrete walls on a foundation plate. The roof is shaped either by a double membrane construction or a fix installed ceiling and completes also the task of gas storage during the anaerobic process phase 2. It is important that the whole construction is gastight and resistant against low pH-value, sulphate and acids.
In the floor there have to be integrated aeration pipes and the underfloor heating.
Under the construction of the roof there are irrigation pipes installed.
Also installed: sensors and pipes for gas quality measurement
The door is also gastight constructed with steel frame and membranes.
On the rear outside the reactor there are situated a ventilator with the supply pipes to the aeration pipes in the floor construction and the connecting pipes to the control container as well as a pressure safety chimney.
Percolate tank 
The percolate tank must be gastight, concrete construction is possible, capacity depends on reactor size. In it there is a pump and some level measurement equipment. It should be possible to add some base for neutralisation of the percolate water. Also heating for the water is important.
Control container
The control container is planned as a conventional sea container; the diverse compressors, the apparatus gas quality measurement, the electrical cabinet and switch panels and the distributor for the heating are installed in it there.
Connecting pipes 
The connecting pipes run between the different components of the plant and are installed subterraneously as well as on the wall of the reactor. There are gas pipes in direction to biofilter, flare or gas storage/provisional CHP and water pipes between reactor and percolate tank and reverse. Their material depends on the requirement (stainless steel, normal steel and synthetic materials).